Lesung zugunsten Projekt-Indienhilfe e.V. am 30.10.2021



Corona zum Trotz hat die Autorin Claire Beyer (www.claire-beyer.de) nun schon zum vierten Mal eine Lesung zugunsten unseres Vereins Projekt-Indienhilfe e.V. veranstaltet. Vor etwa 30 Gästen las sie aus ihre neuesten Roman "Revanche" und verzauberte ihre Zuhörer. Im Anschluss stellte sie sich den Fragen des Auditoriums und es entspann sich eine lebhafte Diskussion. Es ist wunderbar dass es solche kulturellen Höhepunkte trotz schwieriger Zeiten und hoher Auflagen noch geben kann.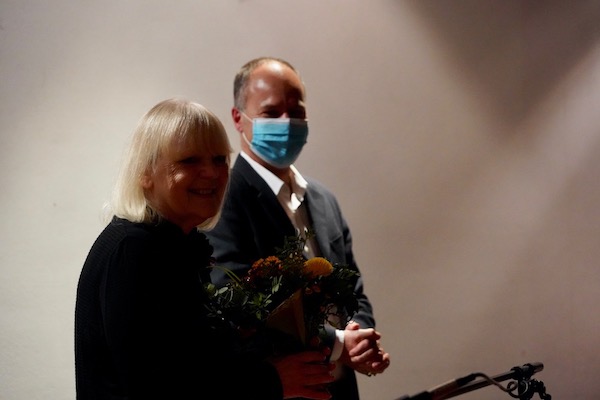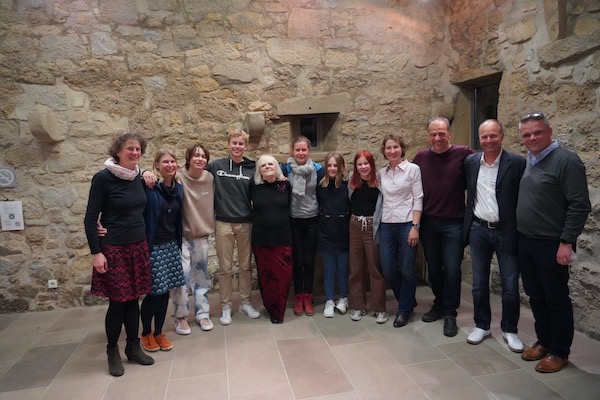 Brief von Father Nirmal an das Projekt-Indienhilfe e.V. im Juni 2020



NITIKA DON BOSCO 52A, Radhanath Chowdhury Road Kolkata – 700 015

Dear Friends of PROJEKT-INDIENHILFE,

Greetings from Nitika Don Bosco. In the lockdown period, we wish that our hearts and spirits are free in love and courage. I write to you with fear and more than that hope. May God who gives us life and raises back the dead be with you all. I am incredibly happy to share some news from the past months in Nitika Don Bosco. As I write this letter the last visit of Mr Alexander and family with Ms Michaela and family come to my mind with lots of love. I feel so touched at this privilege to write this.

I shall try to summarize the events of our tuition centre. All the social service work from Nitika Don Bosco is called DBSERVE. Fr. James Mathew, the then Director in 2013 named it this way. DBSERVE stands for Don Bosco Social Educational Rehabilitation and Vocational empowerment. DBSERVE activities are mainly organized to help children from neighbourhood slums and poor families. A small number of young girls and old needy people from these areas are also included in this programme.

Generally, the entire year tuition classes are held here except for May. However, in May our teachers visit the children in their families to meet the parents, analyze the family situation and collect the necessary information. The classes are held Monday to Friday from 3 pm to 7 pm. A total number of 403 children from Class II to Class X study on weekdays. Since November we have started tuition classes with specific training in extra-curricular subjects on Saturdays too.

In this regular programme, we have some special occasions of celebration. These days of celebration are organized by children with the aim of education and social development. The first event after I took up the responsibility of the Director of the DBSERVE was Teachers' Day. Normally, these children need help to prepare for any programme of quality. However, for the first time, no teacher stepped onto the stage for helping them perform. We prepared them and then withdrew. They did it all. It did give them confidence and revealed to us several areas where they can grow with diligent guidance.

Then in November, we had the Children's Day. World Children's Day is held on 20th November but in India, it is held on 14th November as a tribute to the first Prime Minister of India who had advocated children's education. This year, we decided to avoid the normal cultural function on that day. Instead, we wanted to find the hidden talents in the children and let them all learn and perform. In the first week of November, we started a series of competitions: drawing, poem writing, essay writing, story writing, singing, dancing, silent acting, vocal acting, group dancing, sports tricks, and several computer skills. The children were thrilled in the way they tried to participate in several items, but we had no time. Each child could participate in three events. We had regular classes but one hour was used on different days to hold the competitions. In the schools, these children visit such competitions are not held. A few schools may have but very few get to participate as they are event-centric and not child-centric, allowing chosen few. Therefore, the various competitions prepared for the mega celebration of Children's Day on 14 November 2020. We had the mega finale of the top six participants in the entertainment category. The children were excited to see some new people performing on the stage. We also did add some more group items to embellish the show.

It was during these days children also prepared for their examinations. Class X writes preparatory examinations for the final examinations in March. The lower classes began preparation for examinations in December to be concluded before Christmas. While we were studying, we also were learning and thanking people who had given the opportunity towards a decent future.

On November 20, Mr Heinrich Hackenberg and his friends came to Nitika Don Bosco. They help several children in sponsorship. Some of them study in our tuition centre. It was an occasion to thank them. Since the sponsored children that Mr Heinrich and friends help, cannot come to Nitika, and organize the programme, the tuition children took up the responsibility to hold a cultural show. The programme was held in front of them but the theme of the programme was to thank all the benefactors, donors, and friends of Nitika Children. It was a Thanksgiving Show. We have decided that every year even if no benefactors visit, we shall observe Annual Thanksgiving Day to honour all the friends in Germany, Italy and India. We hope to have you on those days in any year.

On 20th December we had the Christmas program for our evening tuition children. A crib was made by Class IX boys in front of Don Bosco's statue. It was held in the evening. It was around three hour's programs. The children were given caps at the beginning of the program. The children were happy and excited. The stage show had beautiful dances, rhymes, songs skit and Carol singing with Santa Claus. The children enjoyed themselves. After the program Fathers, Teachers and children had dinner together. As they finished the meal the children took with them their Christmas gift: school bags. Then on 21st December, we had a small program for our Saturday children. A Christmas film was screened for them. They were also given woolen Caps as Christmas Gift and food items to take home for their dear ones. Again, on Christmas Day and the day after the children from different areas came to visit the crib and they were given cakes. The world tells these children it is Christmas, but they feel it in the campus of Nitika Don Bosco.

Then came the year 2020. We began to evaluate our work in the previous months and planned for the children's outing, education tours and sports events. As February came, we heard of the coronavirus, but we never imagined this to come near us. The schools opened after Christmas holidays and we got busy in getting the textbooks, writing copies and such stationery items. We also interviewed children for new admissions. We spoke to parents, visited families, enquired where we could not visit to verify the needy families. We bade farewell to Class X children who began their study leave in preparation for the final examinations. However, as in every year as I knew from the records that the children come for special classes during the morning hours.

Once, the newly registered children joined the tuition centre, we organized an educational tour for our junior section tuition children from classes III-VI to Don Bosco School, Park Circus on 15th February 2020. A total number of 247 children went for this tour. Firstly, these children normally would not get an opportunity to enter the campus of one of the best English medium schools, secondly, the first expanse of the playground thrilled them. We conducted a variety of sports events based on their age group and classes. The children enjoyed themselves with lots of fun and frolic. The day was fruitful in seeing the smiles and shining ambition in the little eyes.

We planned a similar educational programme outside for the older children. We were calculating the possibilities of visiting the museums and planetariums or natural scenic places outside Kolkata city. However, our plans slowly began to face the news regarding corona pandemic. Children were eager to go but we could not. Therefore, we adjusted with some entertainment shows, quiz programmes and story writing events.

Eventually, the direction of the government came. Since the first week of March, the volunteer visitors to the campus stopped coming with the corona fear. The pandemic halted our normal life with children. We announced a corona safety break on March 15 to reopen the tuition centre on 15 April. The plan did not work out. We are still in lockdown. The entire month of June will not see schools and coaching centres open. We hope to see the children in a normal classroom setting sooner than feared.

However, for a few weeks, we were shocked and could not do anything. From the beginning of April, we began to deliver food items to the children's home. Since the government directive did not allow the children to come to Nitika campus, we moved to the children's homes. I was on the driving seat with few of our teachers and we carried biscuits, cakes, and other food items to children's slums. The teachers called them over phone individually to do the food distribution.

In May, we packed the food items, basically ration rice, dal, wheat, sugar, oil, biscuits, breakfast pulses and hygienic kits. The teachers came early in the morning and did the packing. As the packets got ready the parents of the children came in small numbers to the gate of Nitika Don Bosco early in the morning. The distribution was done to all the tuition children. Next week we are going to do similar distribution to the old and sick people under the Mercy Ministry. Earlier in April, we had called the parents of sponsored children in small groups for financial help. Every little amount of food items or a small amount of money is of very great value these days. People are desperate. Many people come at the gate asking for food items, but we turn them away saying that we are helping only the children. However, we help those who we can. This situation we may all understand.

Dear friends, whatever we can do is because of the generosity of people like you. You send us the financial support and we see the smiles. Whenever they say 'thank you' we know that the 'thank you' is to you all. We do tell them too. The children know this. In these corona lockdown days, the children do remember you gratefully more than ever. They have met Mr Alex & Julia and Mr Achim & Michaela with the children. We pray for you. Even if they cannot pray like older people do the thank you smiles are already powerful prayers for you before God. I thank you for making my life and that of our teachers with the support staff, very meaningful. It is exhilarating to see happiness in them when they are helped. Hence, on behalf of the children we thank every donor in PROJEKT-INDIENHILFE for your SENSITIVITY. More than ever, when the corona pandemic is reminding the world that we are a family, you all have felt and helped your fellow human family members here in Kolkata. We are grateful.

May Almighty God protect you from all harm and bless you abundantly. We hope soon everything will be normal and we will be back again.

Gratefully in St. Don Bosco

Father Nirmal Jamreet Toppo SDB

Lesung und Versteigerung eines Bildes zugunsten

Projekt-Indienhilfe e.V. am 28. Oktober 2017

Die Autorin Claire Beyer (www.claire-beyer.de) veranstaltete nun schon zum dritten Mal eine Lesung zugunsten unseres Vereins Projekt-Indienhilfe e.V.. Vor etwa 50 gespannt lauschenden Zuhörern las sie die Kurzgeschichte "Buchhändler Rogalsky" aus "Meine wunderbare Buchhandlung", erschienen bei Diogenes (Neuauflage im Januar 2018). Im Anschluss wurde das Bild "Frauen mit komischen Blumen XII" der Künstlerin Marlis Albrecht (www.marlisalbrecht.de) ebenfalls zugunsten der Projekte in Kolkata versteigert. Herr Architekt Gerhard Schmid stellte in seiner Laudatio zunächst den Werdegang der Künstlerin dar, im Anschluß leitete er als Auktionator die Versteigerung. Der wunderschöne Abend klang am indischen Buffet mit vielen guten Gesprächen aus.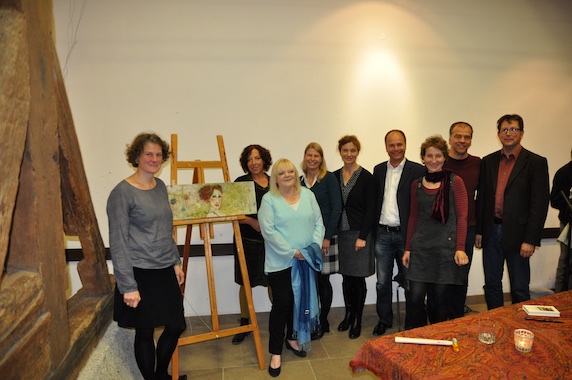 Fastenessen in der Gemeinde St. Bernhard in Mainz Bretzenheim am 9. März 2014

Am ersten Fastensonntag fand wieder das traditionelle Fastenessen für die Pfarrgruppe Zaybachtal im Gemeindesaal in St. Bernhard zu Gunsten des Projekt Indienhilfe e.V. statt. Für das leibliche Wohl war mit einer Gemüsesuppe und einem Hühnchencurry mit Reis bestens gesorgt. Mehr als 60 Mitglieder der Gemeinden und Gäste ließen sich das Essen schmecken und spendeten insgesamt 500€ für das Projekt Indienhilfe e.V., das verschiedene Schulprojekte in Kalkutta unterstützt. Ein besonderer Dank gilt den Mitgliedern des Vokalensembles Leichtsinn, die das Essen vorbereitet hatten. Ein Vergelt's Gott allen Spender!
Fr. James Mathew - Nitika Don Bosco, Kolkata, India:
EVENTFUL MONTHS IN DB SERVE
Jan – May 2013

Fr. James Mathew, DB-SERVE,
DON BOSCO NITIKA,
52 A, RNC Road, Kolkata 700 015, INDIA
+91 9831 557 556
james.nitika@gmail.com

WE REOPENED in January - all the 1270 students were given school fees and stationery and moneyfor books and uniform – an average of 800 rupees per students– they include:
850 students of db serve
250 students sponsored in the neighbourhood
170 college students spread all over Bengal
New admissions completed, the classes went on in earnest with monthly tests and competitions!
Sponsored children: Special attention given to them - each one was given a set of uniform (costing 350 rupees) andnutritional packets worth 250 rupees

GULNAR ARA - GIRLS WHO IS A RAY OF HOPE:
On 1 May 2013 a courageous class xi students who wants to help others in herneighbourhood – under her direction we branch out to the slums opening db-serve bibi bagan – in her own little home - eventually we hope to have a centre ineach of the slums around!

TAILORING PICNIC: On Sunday 5 May 2013: picnic for the tailoring students – to christain church at bandel, mulsim mosque at Imam para, Hindu temple in Belurmath – a day of fun and relaxation and a day to grow inlearning to live together

STAFF OUTING: To prepare for the students day, the staff had a day out on 1 May 2013 - to plan and have fun!

SATURDAY MELA: the 350 children from the slums who come every Saturday – treated to day of games and snacks – on 4 May – before closing for summer vacation –

TAILORING ANIMATION: May 2013 - One day special animation for the tailoring students on the way out to face thechallenges of the world. Topics discussed: Path to Happiness – Be the best you are!

TAILORING FAREWELL: Wednesday 8 May 2013 - 12 senior girls passed out of the two year tailoring course – each was given a tailoring machinetogether with certificate and a sum of 1500 each to begin a centre of their own

STUDENTS DAY: 10 May 2013–700 students in 17 groups – animated by 46 staff for 3 hours of games and fun! that was students day 2013 – all welcomed with ice cream and bun– sustained by glucose lime juice – rich snacks(60 Rs/ per plate) and fabulous prizes (80 Rs/per person) – individualprices for 200 students worth 250 Rs/!



20 Jahre Projekt-Indienhilfe-Jubiläumsfeier am 20.10.2012 in Günzburg


Günzburger Zeitung vom 27.10.2012:

Projekt IndienhilfeIn 20 Jahren 150000 Euro gesammelt Verein unterstützt Schulprojekte für Straßenkinder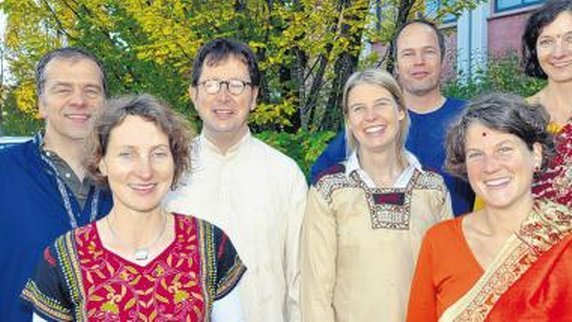 Die Vorstandsmitglieder des Vereins Projekt Indienhilfe, der seinen Sitz in Günzburg hat, haben zur 20-Jahr-Feier indische Gewänder angezogen: (von links) Albrecht Clement (Beisitzer), Heidrun Abel (2. Vorsitzende), Christian Pachtner (Kassenwart), Michaela Spörl (Schriftführerin), Alexander Rein (1. Vorsitzender), Julia Rein (Beisitzerin) und Bärbel Pachtner (Beisitzerin).

Günzburg Vor wenigen Tagen haben 35 Mitglieder und Freunde des Günzburger Vereins Projekt Indienhilfe bei ihrer Jahresmitgliederversammlung im Sozialzentrum in der Zankerstraße ihr 20-jähriges Bestehen gefeiert. Seit 1992 unterstützt der Verein, der 28Mitglieder zählt, Schulprojekte für Straßenkinder in Kalkutta (Indien). Bei einem halbjährigen Aufenthalt von Michael Spörl und Heidrun Abel 1992 in Kalkutta entstand damals die Idee, zu Hause bei Familien und Freunden für die Slumprojekte in Kalkutta Geld zu sammeln. In den vergangenen 20 Jahren wurden so insgesamt circa 150000 Euro gesammelt und an die Slumprojekte in Indien ausgehändigt. Alexander Rein berichtet von seiner Reise nach Kalkutta Nach einer Begrüßung durch die 2. Vorsitzende Heidrun Abel berichtete Alexander Rein, untermalt von Kurzfilmen und Fotos, von seiner Reise nach Kalkutta im Februar dieses Jahres. Die Gäste genossen im Anschluss an die formalen Berichte von Kassenwart Christian Pachtner und Protokollführerin Michaela Spörl ein indisches Mittagessen mit Curry und Yogitee. Im Namen der Slumkinder freut sich der Verein über Spenden. Die Kontaktadresse lautet: Projekt Indienhilfe e.V., Konto Nr. 0006860753, Dt. Apotheker- und Ärztebank, BLZ 600 906 09. (zg) Weitere Informationen zu den Projekten in Kalkutta finden sich auf der Homepage des Vereins unter www.Projekt-Indienhilfe.de


Fastenessen in den Gemeinden St. Bernhard und St. Georg in Mainz Bretzenheim am 7. März 2010

Am Sonntag, 7.März 2010 richtete das Projekt Indienhilfe e.V. das Fastenessen in den beiden katholischen Gemeinden in Mainz-Bretzenheim aus und konnte so den Verein einem größeren Personenkreis in Mainz bekannt machen. Das Fastenessen hat in den beiden Bretzenheimer Gemeinden Tradition und wird seit mehreren Jahren von verschiedenen Gruppen organisiert. Nach dem Gottesdienst kamen ca. 90 Personen in das benachbarte Gemeindezentrum. Im Anschluss an einen Willkommensgruß von Albrecht Clement stellte Heidrun Abel in kurzen Worten den Verein vor und beschrieb die Eindrücke Ihrer letzten Reise nach Indien (Dezember 2009). Nach einem Tischgebet von Pfarrvikar David Rühl genossen die Gäste Hühnchen-Curry, Linsengemüse und einen Gemüseeintopf mit Würstchen. Schon während des Essens entwickelten sich ausführliche Gespräche mit Michaela Spörl und Heidrun Abel. Im Anschluss diskutierten die beiden eifrig mit den Besuchern an den Plakatwänden, auf denen die unterschiedlichen Projekte vorgestellt wurden. Zudem wurde eine Bilderpräsentation von Heidruns Reisephotos gezeigt und von mehreren Besuchern interessiert verfolgt. Die Gäste zeigten sich beeindruckt mit wie viel Initiative und Engagement der Verein die Projekte unterstützt.

Ein herzliches Dankeschön möchten wir dem Pfarrgemeinderat für seine Unterstützung aussprechen. Die Kochaktion wäre nicht möglich gewesen, wenn uns nicht Uschi und Manfred Alflen, Gabi und Bernhard Kiefer, Silke und Roman Rolke, Christiane Adelfinger und Angela Clement tatkräftig unterstützt hätten. Vielen Dank! Besonders bedanken möchten wir uns natürlich bei den Gemeindemitgliedern für ihre großzügigen Spenden und sind froh, insgesamt 600€ an unsere Projekte überweisen zu können